The Resurrection?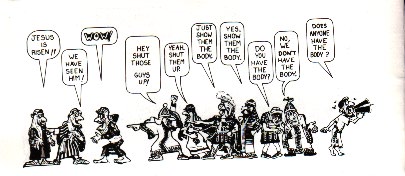 I am a christian. This means that I believe in Jesus Christ for the forgivness of my sin and trust in him for eternal life. And I believe that he is the only one who can make us right with God...without him we are are lost....without faith in him we 'stand condemned already'.
Why do I believe this? Well, quite simply, because God has revealed to me in my heart that this is the truth. I didn't come to believe in Jesus through any great intellectulal reasoning, I was actually brought up with a christian worldview. Now that didn't make me a christian, I didn't become a christian till I put my faith in Jesus Christ and that happened when God revealed to my heart the full weight of the truth of the gospel and what it meant for me that Jesus really did die on the cross so that I might be forgiven. However I can find no greater intellectual reason for believing in Jesus Christ other than the fact of his resurrection. I know he is risen because I experience an ongoing relationship with him but there are some things which we would do good to think on, concerning his death and claimed resurrection -based on the most reliable historical documents we have which themselves are based on eyewitness accounts (a 'statement' if you like), the gospels- which seem to point towards an astonishing fact.....that Jesus DID in space and time bodily rise from the dead!
What is so important about the resurrection anyway? Basically put, Christianity either stands of falls with the ressurection. If Jesus rose from the dead it stands. If he didn't, it falls. Why is this? Firstly because Jesus acually claimed he would rise from the dead and secondly because he said his ressurection from the dead would be the sign of his authority as Son of God (John 2 :13-22). The fact is if any ordinary person said to you quite seriously that they would rise from the dead, you would most probably dismiss them as a lunatic. BUT if they then did rise from the dead and you knew that before they died they made some other seriously radical claims. Claims which had personal consequences for you and the way in which you lived your life (such as 'I am the way the truth and the life NO-ONE come to the Father except through me' or 'if you believe in me you will have eternal life' and 'those who do not believe stand condemend already') I think you would begin to take them seriously.
The fact is, anyone who calls themselves a christian and dosn't believe in the resurrection is merely following the moral teachings of a dead man -they might as well call themselves a Buddhist. More than that they are folowing the teachings of a lunatic -someone who claimed equality with God- they might as well join the Branch Davidian Sect and follow David Koresh. Christianity either stands or falls with the ressurection because it's founder either stands or falls with it. If he rose -pay attention to him! If he did not -dismiss him as a lunatic.
Consider -THE FACTS
"once you have eliminated the improbable, whatever remains, no matter how impossible must be the truth" (Sherlock Holmes)
1) Jesus actually died.
Some would like to claim that Jesus merely fainted and revived, giving the impression that he had died and then risen. Yet this dosn't fit with what we know about his death.
a) For instance we know that when the Roman soldier pierced his side with a spear, blood and water poured out of the wound. Samuel Houghton M.D. a past physiologist at the University of Dublin states:
"a copious flow of blood followed by a copius flow of water follows the wound.....this would occour in a crucified person who has died upon the cross from a rupture of the heart"
(J.Mcdowell, Evidence That Demands a Verdict p. 190)
b) The legs of the thieves were broken because they were'nt dead. People survived for hours on a cross by pushing themselves up by their legs (which were pinned to the cross by a huge nail and probably supported underneath with a piece of wood) in order to breathe. Just hanging from the cross would cause them to asphyxiate. The thieves legs were broken to ensure that they couldn't push themselves up and that they died from lack of oxygen. Jesus legs however were'nt even touched because the Roman soldiers knew that he was already dead instead they stuck a spear in his side which as we have seen produced blood and water -evidence of the soldiers original conclusion.
c) Jesus had been severly beaten by the temple guards (Mark 14:65), flogged by Roman soldiers (Mk 15:15, had a crown of thorns thrust onto his head (Mk 15:17); (at this point he was so weak he couldn't carry his cross to the place of execution as was required; Mk 15:21), had nails driven through his wrists and legs (Mk 15:24), hung on a cross for three hours either asphyxiating or suffering excruciating pain, pushing up on his legs on order to breathe (Mk 15:23,33). It is hardly surprising that his heart ruptured and he died before the theives! If he had fainted it is ridiculous to suggest that he then survived a spear in his side, 36 hours in a cold tomb, without medical attention and encased from head to toe in cacoon like burial wrappngs which he then proceeded to get out of without unwinding; from the inside of the tomb, force open the rock which sealed it and overcame the Roman guard.
2) The body was placed in the tomb
According to Matthew 27:62-66, the day after the burial of Jesus, Pilate ordered a Roman guard (could have been anything from 10-30 men) be posted at the tomb to ensure it's security and that the body remained well and truly inside. Apparently the chief priests and Pharisees were concerned that the disciples might come and steal the body in order to claim that Jesus had risen as he said he would.
A few things to take into account:
a)The tomb was sealed in the precence of the guard. They would not have sealed it without checking first that the body was still in there as the whole point of the exercise was to make sure it remained there.
b)The punishment for a Roman soldier for deserting ones post, leaving a night watch, even sleeping on duty was likely to have been severe -in some cases punishable by death (Mcdowell p. 218-221). The guards then, as well as being trained killing machines were unlikely to perform their duty except to the highest standards. Faliure to do so was more than their life was worth.
3) No-one removed the body from the tomb
a) The chief priests and the Pharisees had no reason to -in fact they were paraniod that the disciples might attempt to do so. But for the sake of argument assuming they did remove the body, why did they not produce it again when the disciples started to preach that he had risen? It just dosn't add up.
b) The Roman soldiers did not remove it -as we have seen they had to carry out their duty or face a severe penalty.
c) The disciples are quite possibly the only one's who would have cause to, yet they would've had to overcome a trained Roman guard of 10-30 men. And why did the Pharisees have to bribe the soldiers to spread the word in Jerusalem that the disciples had stolen the body if in fact that is what happened? Yet, other facts need to be taken into consideration. The disciples were in no mood to face an armed conflict with Roman soldiers in order to steal a corpse from a tomb. They were depressed and demoralised not to mention cowardly. Every single one of them had fled upon his arrest and Peter who didn't, later denied that he knew him.
Conclusion
The fact remains -the tomb was empty on the morning of the third day. The body had dissapeared, no-one could recover it and the disciples eventually began claiming he had risen from the dead, eventually many years later dying for that claim. According to Paul in 1 Corinthians 15:3-7 Jesus appeared to many people after he had risen -once to a gathering of over 500. More astonishing though is the fact that Paul (who changed his name from Saul) who was once the greatest persecutor of the early church, changed and became it's greatest advocate. The reason he gives for this sudden change of heart: 1 Cor 15:8 "last of all he appeared to me also". Paul knew that Jesus ressurection had consequences for his life and they way in which he lived. In the same way it has consequnces for you to. Perhaps I havn't convinced you.....the fact is I havn't told you half of what I could have, there are plenty more facts out there for you to consider if you need to before you make your final decision (Christian Answers Website), the implications of which are too great for you to ignore them. Yet I would still advocate that intellectual arguments don't prove anything beyond a shadow of a doubt -only encountering Jesus for yourself would do that. He IS risen, he IS alive...be pragmatic about it, take a practical approach; put your faith in him talk to him; slowly but surely, perhaps even suddenly he will reveal himself to you and if you give your life to him he will not let you down. He alone is able to make you right with God. He alone is the way to God.
We all owe a debt to God; because in the life He has given us we've ignored Him by living however we want. We ask, 'what can we get out of life?' and not 'what can we give Him?' The Bible calls this sin. God being perfect, demands that we also live perfectly for our entire life - and none of us have done that. And because it is impossible to turn back the clocks and undo all the things we've done we all owe a debt to God, we're all in trouble. The only hope we have is for God to forgive us.
This is the good news. The Bible says that Jesus has paid our debt to God, and that through him we can be forgiven for our sin. The greatest sin you could commit now would be to ignore the man who had paid your debt. With his life he has written you a cheque of forgivness: When are you going to turn to him and cash it in?
Any questions/comments please e-mail me at: weeksdm@yahoo.co.uk